eBook: Chinese Cultural History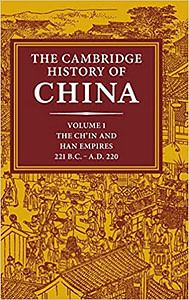 In addition to other books we offer on this site, we are featuring these Cambridge History of China books. There are about 20 total volumes in the set and they will be posted over the coming weeks. If anyone wants to purchase the whole set earlier, please contact me with your quantity discount offer. On Amazon, they run upwards from about $70 for used to about $140 new (with some bad reviews for bindings.) Please note that some of these PDF ebooks have been scanned into PDF and are still very readable. Because of this, our prices for them are around $30. Otherwise, we price them between 25%-50% discount to Amazon.

Presenting a Compendium of Chinese Cultural History
These volumes on the Chinese cultural history presents the fullest chronological account of the period. In them, political, institutional, social, and economic changes are integrated as far as possible. This sees the period against a broad background of international relations in Northern and Central Asia.
It starts from the Origins of Civilization to 221 BC and with chapters on the prehistoric background. Following is the growth of language, and relations with the peoples of Central Asia. As a result, this provides the major context of China's achievements in the 1,500 years under review. and continuing on to the present day.
###
Please help support this website. We hate to ask for donations or money handouts to help us support this our work. We have no other sources of income. Consequently, we feel that if you are going to give money that you get something tangible in return. As a result, we have searched out what we think as reputable vendors with health oriented products you can use who will pay us a small commission (at no extra cost to you). This way it is a win-win situation for both of us if you purchase items you need or want from from vendors mentioned on this website.
You are encouraged to purchase any of our PDF eBooks or to Order eBooks by Title/Author as the proceeds from them enables us to provide you with more Free eBooks.
Thank you for your generosity!
Showing 1–12 of 13 results